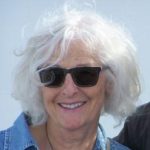 When I left my high tech job in eastern MASS for the Berkshires in 1995, I had no idea a career in art was waiting. However, living in such a creative community, to say nothing of the beauty of the Berkshires, I knew it was time for me to put away my geekiness and to exercise the other side of my brain.
A few lessons at the local art school eventually led to taking all of the art courses at the community college, and then years of practice.  I purposely did not attend group workshops….I was so afraid of unconsciously copying someone else's style that I studied theory in classes but not style…. I wanted to find my own. Or should I say, I wanted it to find me.
That's how it started. In 1999 I summoned up the courage to show some work to a small cooperative gallery in Great Barrington, was welcomed and that began my "public" art career.
Over the years I have participated in numerous local and regional art exhibits and fairs and my art has been recognized and has received numerous awards.
A few of my favorite "art related" events:
Dave Brubeck signed my painting, "The Masters Hands" which was later auctioned at a fund raiser for the Colonial Theatre;
The Mayor of Pittsfield presented the Mayor of Ballina Ireland with a framed reproduction of my painting "Christmas on Park Square, 1912" which still hangs in city hall in Ballina;
Being selected in 2012 to paint the image for the annual Pittsfield Parade Posters;
"Christmas on Park Square, 1912" selected for the bicentennial holiday globe as well as a holiday CD cover;
My painting , "North Street at Christmas" selected to be on the rounding board of the Berkshire Carousel;
Discovering how much I love teaching people to paint, sharing the joy of discovering that you can create something you never thought you could.
This website holds many of the paintings I have done over the past few years. I find inspiration all around me, so expect to see a wide variety of subjects captured in my paintings,  such as bustling marketpaces, bucolic farmlands, quaint villages, street scenes, lighthouses, landscapes and seacoast, and lots and lots of buildings…and thats just to name a few.
I live in a lovely part of Massachusetts, the western hills called Berkshire County. I have painted well over 150 paintings of just this area and exhibit them often in local and regional shows. But you will see scenes from all over the world, not just here.  I'm always looking for that special something that gives the locale its personality, its "local color", its identity.
A number of years ago I discovered that I really  love painting buildings….which naturally led to painting house portraits.  Painting someone's castle, whether a 2 bedroom bungalow or a mansion, is more than just depicting a structure in paint; it also involves capturing it's charm and personality, its history. It actually can be likened to painting a person's portrait.
My time is spent painting in my studio in "Upstreet" Pittsfield, which as of March 2012, became one of 5 areas in Massachusetts designated as a "Cultural District", giving lessons in watercolor technique, preparing for exhibits, meeting with clients, marketing my own work and also assisting with other art groups with their marketing, technical and publicity needs.
Before joining the world of art-making full-time in 2000, Marguerite Bride was a software engineering manager from 1986-95 with a degree in Computer Science; she is also a Registered Nurse.