June 3 – July 27, 2016 –  Old Chatham Country Store and Gallery, Old Chatham, NY. This is a "duo" exhibit I am doing with  fabulous abstract artist, Karen Jacobs with a  Berkshire theme. It will be a lovely mix of abstract oils and watercolors…we will each be contributing about 10-12 original pieces. The opening reception is Sunday, June 5,  3-5 pm. Visit their website for hours, menu and directions. And if you cannot make the reception, do stop by for lunch!
July 30 and 31, 2016 – Church on the Hill Annual Fine Arts and  Handmade Craft Fair at Lilac Park, right in downtown Lenox, MA. This is a weekend show, rain or shine, free admission. Hours: 10:00 AM to 5:00 PM Saturday, 10:00 AM to 4:00 PM Sunday. There will be a pancake breakfast and a luncheon both days. Breakfast starts at 8:30 AM and lunch starts at 11:30 AM. Be sure to mark your calendars! This is always a bustling event!

August 5 – 27, 2016 – Lichtenstein Center for the Arts, Pittsfield, Mass.  "JAZZ Visions" –   This is a duo show I am doing with Lee Everett, jazz photographer extraordinaire. Lee and I have been involved in the jazz scene for many years…he as a professional  photographer, I as a painter. This show will exhibit approx 15-20 pieces (each) of our original works. Most of my paintings are watercolor on canvas…inspired over many years by the Pittsfield CityJazz Festivals, Newport  and Montreal Jazz Festivals, New Orleans and NYC jazz scene, plus some portraits of performers. Additionally, there will be a framed fine art reproduction of my original watercolor "The Master's Hands" signed by Dave Brubeck himself (at the 2009 PCJF)….proceeds from the sale of this piece will benefit Berkshires Jazz. There were only 3 signed, and this is the last one. The opening reception is set for Friday, August 5, 5-8 pm during the August Pittsfield Arts Walk.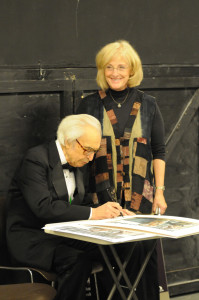 August 20 and 21, 2016 –  Stockbridge Summer Arts & Crafts Show. My second year  in this juried show….it was great fun last year plus I got to visit with many old friends. This is a free event. Sat 10-5, Sun 10-4. Main Street, Stockbridge, Mass…..you can't miss it, and you shouldn't.

November '16 – March '17 – PUBLIC Eat & Drink, North Adams, Mass.  Solo exhibit of my original paintings in two rooms of this funky restaurant in downtown North Adams. One room will feature many pieces from the Jazz Visions exhibit on canvas, the other room will feature many of my traditional watercolor paintings (matted behind glass) of Berkshire winter scenes.  Check their website for hours, menu and directions.
Additional events may be added.