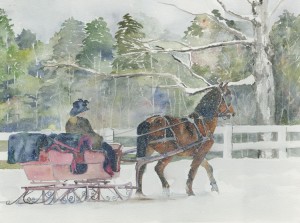 Seeing the frost on top of Mt. Greylock reminded me that its time to update this site with some winter art news. I am NOT exhibiting in any holiday shows this year…needed to take a little break but expect to be back in the "circuit" next year. But my art is still around and available. I am working from my home studio now, and am very easily reached, so do not hesitate to contact me.
Here is where you can see my work at any time:
Mary's Carrot Cake Shop and Gallery, Union St., Pittsfield – exhibiting Berkshire winter framed originals and reproductions until January. Also many "specially priced for the holiday season" unframed repros in the bin and Christmas on Park Square Holiday Globes. Open Tues – Fri, 11 – 2pm or by appointment (contact me). I will be there 5-8pm for a little reception on Dec 4 for  Pittsfield First Fridays Arts Walk. Come by and visit!
You may also find a selection of matted repros and cards at the following:
Lenox Print and Mercantile, Church Street, Lenox;  Red Lion Inn Gift Shop, Stockbridge; St. Francis Gallery, Rt. 102 in South Lee.
There is also a selection of winter Berkshire scenes on display in the public areas on floors 1 and 2 of the Crowne Plaza in Pittsfield.