THE MASTER'S HANDS
This framed piece is approximately 18(w) x 24(h), double matted, professionally framed.

     By the time of his demise in 2012, Dave Brubeck was one of only a handful of jazz musicians who could be considered household names. An NEA Jazz Master, he was a genuine ambassador of America's one indigenous art form, appearing in uncountable countries and venues. His appearance at the 2009 Pittsfield CityJazz Festival, during the 50th celebration of his "Take 5" hit, was his final performance in the Berkshires.
     On the evening of that performance, he signed the original and three reproductions of this watercolor painting of his hands. The original was donated to a fundraising auction for The Colonial; two of the three reproductions are in private collections. The proceeds for this final signed reproduction will be donated to Berkshires Jazz.
How to bid:
Bids will be accepted beginning Aug 5 and no bids will be accepted after 4pm on August 27, 2016.  There is an opening bid minimum of $750.
Bidding will be in person or by designated proxy. Forms will be at the gallery to complete with your contact information.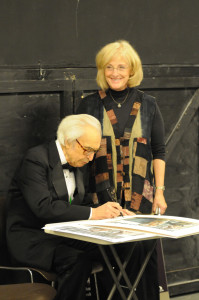 The artist backstage with Mr. Brubeck on October 17, 2009.
Photo taken by Lee Everett.