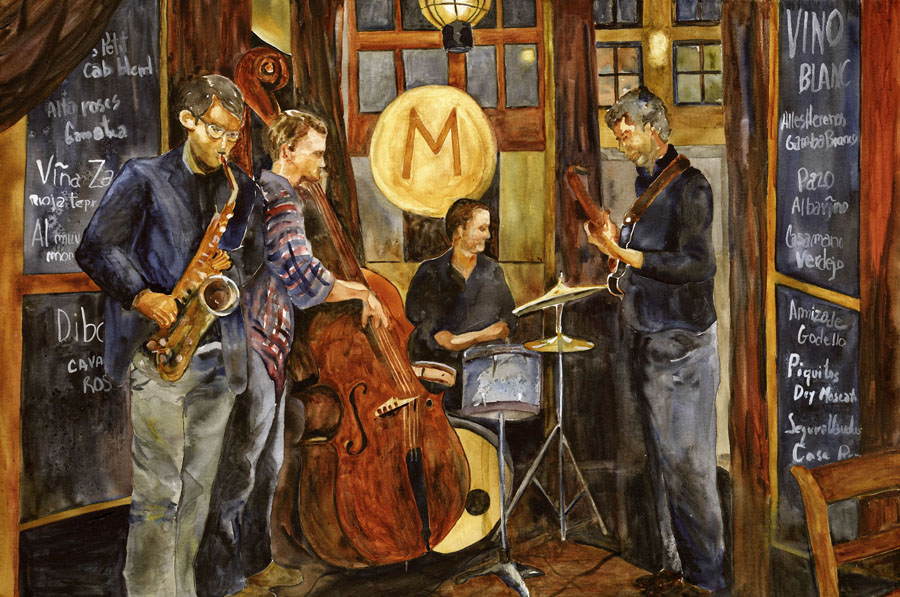 If it's Monday and you're on North Street in Pittsfield, Massachusetts, you're not far from a regular diet of great jazz. If you're at Mission Bar and Tapas, you've arrived.
     The jazz scene is alive and hopping every Monday evening at Mission, in the heart of the city's Upstreet Cultural District. Bassist Andy Wrba recruits the best talent from a bevy of friends for some heavy swinging, in an organized jam that could easily be mistaken for New York's subterranean scene.  You never quite know who will be performing, but the circle is getting larger and larger, encompassing traveling musicians as well as locals. Here, Andy is with Berkshire stalwarts Kris Allen (sax), Jason Ennis (guitar) and Conor Meehan (drums). Andy's presence on bass is about the only predictable aspect of the scene.
Also see Home Bass
Inspiration: Many visits to Mission Bar and Tapas for Monday night jazz, one particularly wonderful jazz night and my own reference photos.
Title: Monday at Mission
Medium: Watercolor on Stretched Canvas
Framed Size: 26" x 38"
Framed Price : $2000 (available)
Click here for information about purchasing a Fine Art Reproduction of this image.