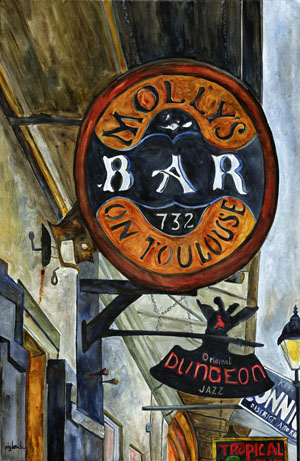 If New Orleans is jazz Garden of Eden, local clubs like the Dungeon and Molly's on Toulouse impart the flavor. Small, local jazz joints say a lot about the New Orleans scene. Colorful locals, street-corner musicians playing for tips, legendary venues like Preservation Hall, they're all part of the scene. But to many, it's the small ones — whose name they might forget, were it not for a visual assist — that conjure the real New Orleans. To paraphrase a 20th-century politician, "All Jazz is local." That's where it all starts.
Inspiration: Inspired by a visit to New Orleans in 2003 and my own reference photos.
Medium: Watercolor on Stretched Canvas
Size: 38" x 26"
Framed Price: $2000 (available)
Click here for information about purchasing a Fine Art Reproduction of this image.