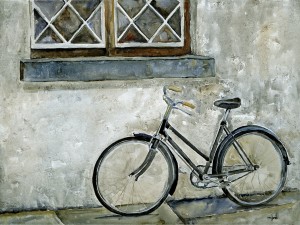 This painting is on display and can be purchased through:
The Wild Radish Gallery
19-21 Main Street
Clinton, New Jersey
email: TheWildRadishGallery@gmail.com
Original Painting: $900
Framed size: 20 x 26
Fine Art Reproductions: Available from the artist
Click here for information about  ordering a Fine Art Reproduction.
This is a watercolor painting done on stretched canvas designed and specifically treated for watercolors. The texture was obtained by applying coats of gesso roughly in different areas of the canvas, then painting over it with watercolor. When completed, it was sprayed with 3 coats of varnish designed for this medium to make it permanent, and then framed without mat or glass in a black "floater" frame.
This painting was created for an exhibit called "Travels with Missie – the Artists' View" which opened March 2015 at the St. Francis Gallery in South Lee, MA.