2015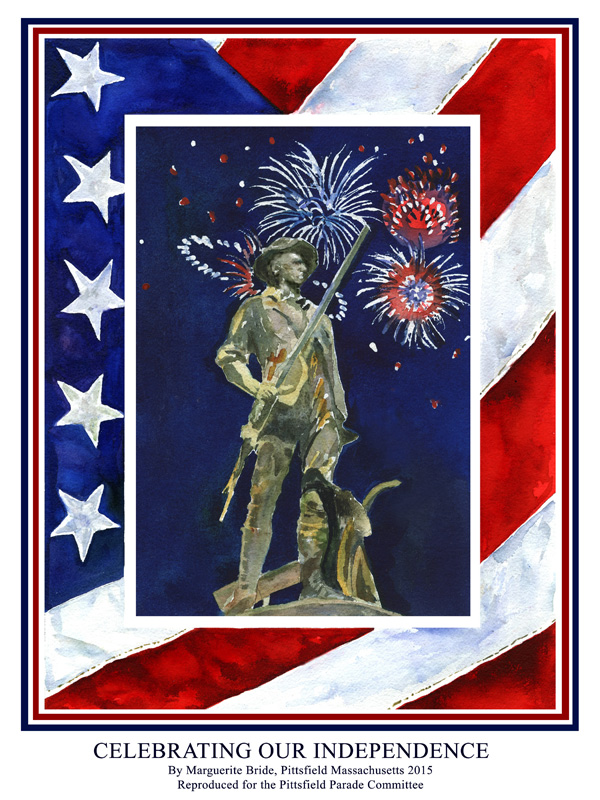 I have been honored to be the official artist for the Pittsfield Parade Poster since 2012. The poster is given as a gift to anyone who donates $25 or more to support the parade.  And really, WHO DOESN'T LOVE A PARADE????
Contribute through the website PittsfieldParade.com to receive your poster, or you can contribute through me if you would like it signed…just contact me directly and pick one up at my studio on North Street. Besides the current year's poster (for a $25 donation),  previous years' posters (2012, 2013, 2014) can also be purchased for $10 each while supplies last.
I have been often asked to explain the process of designing and creating the poster.
THE PROCESS
     Early each year a theme is decided upon by the Pittsfield Parade Committee; shortly afterwards, it is communicated to me.  My guidelines are:  it must be vertical orientation, conform to  18″ x 24″ dimensions, and always display the American flag.  Some themes can be very challenging, often quite educational, and always great fun! The process varies depending on how I want to depict the theme.
     Movie Classics  in 2012, was my first, and so far has been the most complicated. I wanted to create something that would appeal to everyone. Besides all the research needed to find suitable movie icons for each genre and age group, it required a lot of thought on how to put it all together. At first I wanted to have all those movie icons marching in the parade, but that became a drawing nightmare. Then I thought it would be fun to have them all watching the parade go by while standing in front of the old Palace Theater on North Street. Once that was decided, I then had to determine who goes, who stays (I found a lot more than I could use). Each character was then hand-drawn individually by me, and scanned into a graphic design progam. In addition, the Palace Theater was hand drawn as well. Once I had all of the pieces in the program, I could move them all around until I found a pleasing arrangement. Once done, I then printed that out in a size even larger than the  poster would be, but the correct proportions, and used that printout to transfer the images and design onto my watercolor paper. I fine-tuned as I painted and ending up with a very large painting (framed and hanging in my studio). Using the magic of computer programs, it was scanned and shrunk, and put into a poster format with the title, date and Pittsfield Parade information.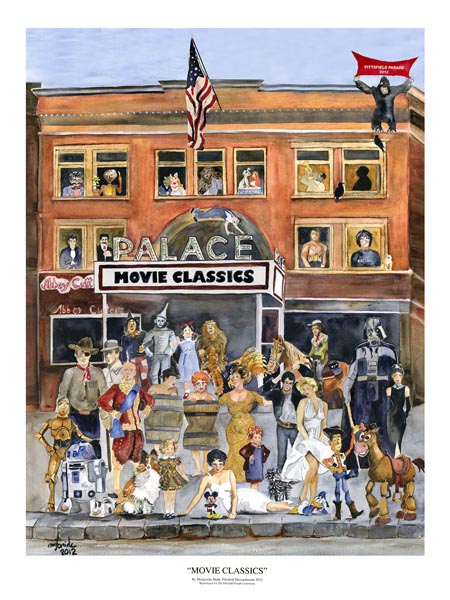 The posters for 2013 and 2014 were done using a different process than above. Each of the themes:  Land that I Love (2013) and  Made in America (2014),  required multiple unique images. All items depicted on these posters were individually painted as smaller watercolors and then scanned in to a design program. Putting the posters together was fun. With Land that I Love, I tried to have the images in the borders correspond to where they would fall geographically in the US…with a folk art flag and red barn in the center symbolizing the heartland.  Made in America has products created in America and located as close to the area on the map of the UAS as possible.
     The image for the 2015 theme, Celebrating our Independence, seemed to come to me very quickly. I could not imagine anything but a painting of the Minute Man sculpture done by Berkshires' own Daniel Chester French, at night surrounded by fireworks. After viewing as many different versions of the statue as I could find, I did a drawing and then painted the scene as a single large image with the flag in border.