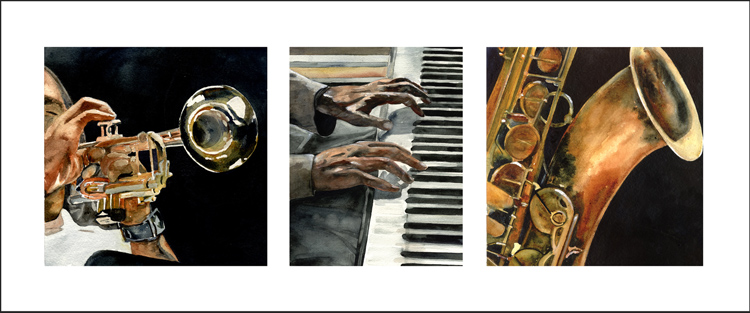 JAZZ Paintings in celebration of the 10th Annual Pittsfield CityJazz Festival.
These three paintings were inspired by festivals in past years. The trumpet player on the left appeared in 2007 festival; the sax on the right belongs to the wonderful and gifted Claire Daly who is reappearing in this year's festival on Oct 18. The hands in the center are those of Dave Brubeck. He appeared in 2009 and signed the original watercolor I painted of his hands which was then auctioned in a fund raiser for the Colonial Theatre.
Special offer on limited edition fine art reproductions in this triptych arrangement for $150 (plus tax/shipping).  Matted in off-white, signed by the artist.  Standard 10″ x 24″ frame available separately. Custom sizes available upon request. Contact the artist either by email or fb message.
Offer expires October 18, 2014 at midnight.
More information about this year's jazz festival at www.Berkshiresjazz.org