THANK YOU FOR A FABULOUS SUMMER AT THE POP UP!
As of August 29, 2014 we closed the doors to our little seasonal gallery while we consider where else we will "pop up". In the meantime, we four artists are still "doing our thing" …. painting up a storm in our studios at NUarts, 311 North St., Pittsfield and of course we always welcome visitors.
Our website (popupunionst.wordpress.com) and our Facebook page (PopUp on Union Street) have all the details and contact info about all of the artists.
PoP Up Gallery on Union Street – PRESS RELEASE
Pittsfield, Mass., June 20, 2014 -– Union Street in downtown Pittsfield is experiencing a mini-renaissance of its own, coming alive with a new gallery. Four artists from the NUarts Studios at 311 North Street have taken over 25 Union Street and have converted it into a seasonal "POP UP Gallery," a temporary site to serve summertime visitors to the Upstreet Pittsfield Cultural District.
Berkshire artists Marguerite Bride, Debbie Carter, Joanie Ciolfi and Scott Taylor have filled the intimate gallery space with a selection of original watercolors, oils, mixed media and acrylics, in addition to a wide selection of prints and cards. The four will be staffing the gallery throughout the summer, and potentially beyond.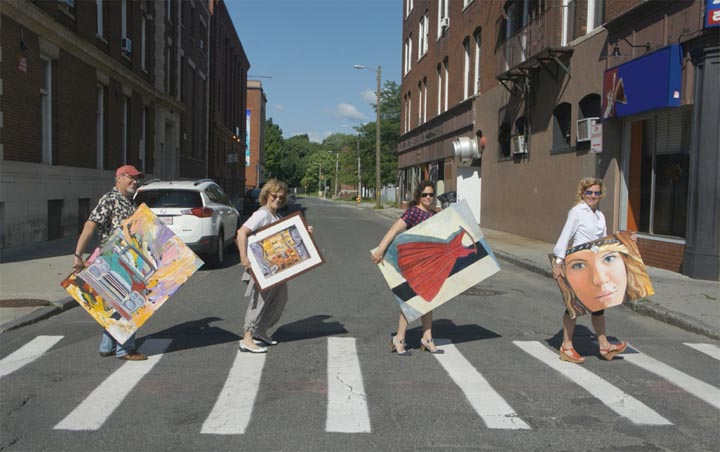 The arts have played a critical role in the revitalization of downtown Pittsfield. But with the departure of Mary's Carrot Cake –and Gallery 25 along with it–, and the untimely closure of Wild Sage, the "cultural corner" of the short street was lacking a destination to complement Barrington Stage, which is across Union Street from the new POP UP Gallery. So, the artists banded together to organize and staff the new gallery. Even with the closure of other galleries in town this past year, Pittsfield is still a "happening place" and four artists wanted to make sure no one forgot that
Acknowledging the importance of the theater-going crowd, POP UP Gallery will have hours that are compatible with and convenient to Barrington Stage's main-stage performances.
Although already serving clients and arts followers, an official grand opening with all four artists will be held on Saturday, July 5, with an open house during the day and reception from 6-8 pm. The gallery will also be open at other times by chance and by appointment with any of the artists.