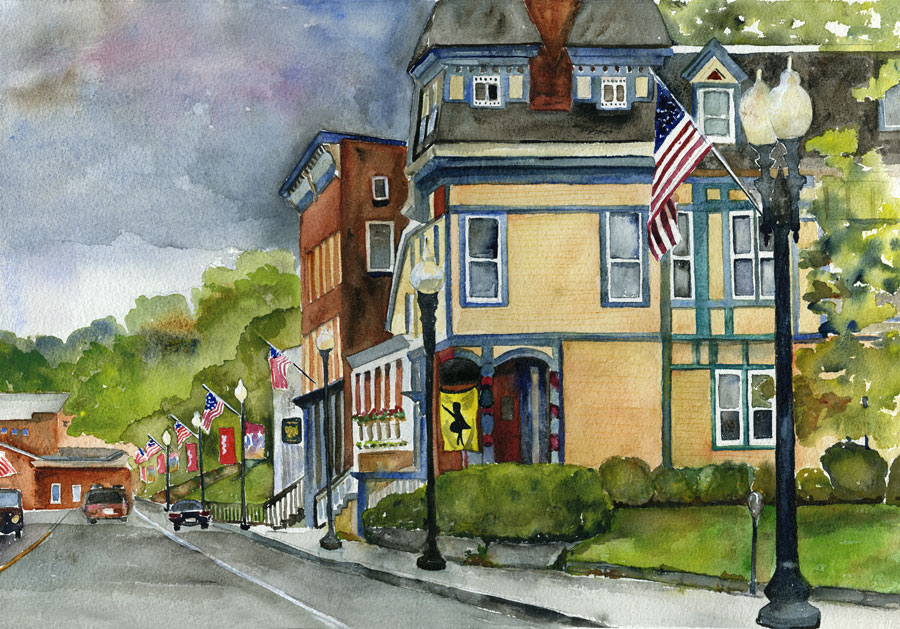 MARGUERITE BRIDE
Watercolors
      Often winter months in the Berkshires are the busiest time for artists who are preparing for the next show season, which always seems to arrive in a hurry. With plans to exhibit new and exciting material, painters view this creative period with great excitement and anticipation. At least that's how watercolorist Marguerite Bride feels about it.
     During these "quiet" months, Bride also gives watercolor technique lessons in her studio on North Street, Pittsfield. Visit her website for more details about commissioning a painting, purchasing a painting or fine art reproduction lessons and updated exhibit information; or contact the artist directly.
     Over the years Bride has painted many scenes from vacations, special occasions, and favorite settings…all from clients' own photos.  These have included  scenes from romantic wedding settings and honeymoon trips, Tuscan villas, vistas from fabulous hikes,  exciting canoe trips, scenes from family vacations and reunions, "once in a life-time" adventures, and more.
     Commissions for vacation and house portraits are welcome at any time. It's not too soon to think about 2014 holiday gift giving…take photos now if you want a stunning winter scene in the Berkshires.
     Marguerite Bride will be meeting visitors in her studio during Pittsfield's First Fridays Artswalks, held on the first Friday of each month. The artists at the NUarts Studios open their studios and welcome visitors to come and see the largest group of working artists under one roof in the Berkshires. 
 Marguerite Bride, NUarts Studios, Studio 9, 311 North Street, Pittsfield, Studio #5, by appointment only. Call 413-442-7718, or 413-841-1659 (cell); website: margebride-paintings.com, email: margebride@aol.com.